The consultation appointment is where you will meet with Dr. Lieblick or Dr. Rehrer. Your surgeon will evaluate your needs and design a custom treatment plan while keeping you informed and involved every step of the way.
Amenities
Elegant offices and waiting areas designed with comfort in mind
Variety of anesthesia and sedation options available
Pristine environment cleaned daily and thoroughly with hospital-grade disinfectants
EXPAREL® non-opioid alternative for pain management following surgery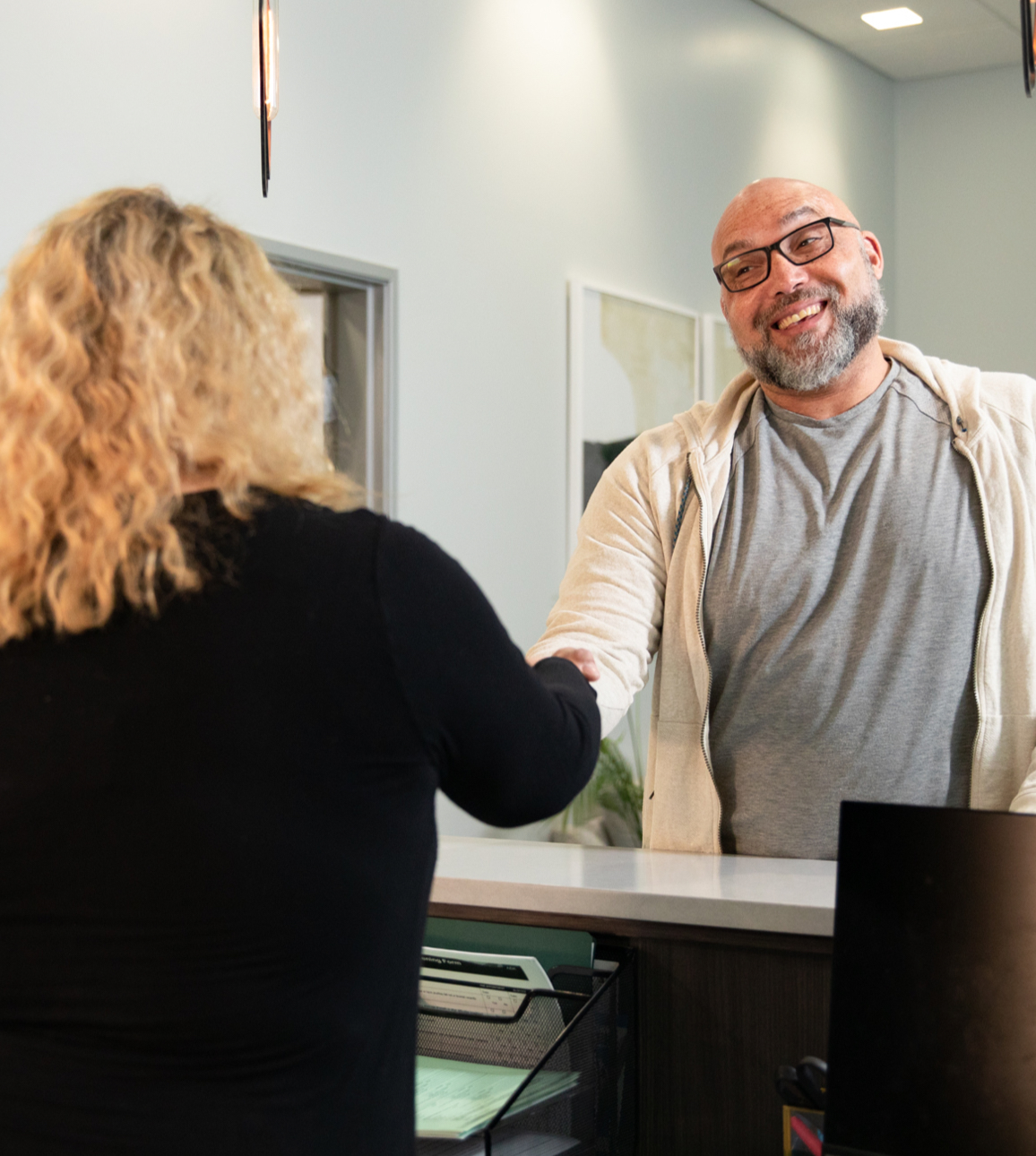 What to Bring
You can complete the patient registration form online to save time on the day of your visit. A pre-operative consultation and physical examination is necessary for patients undergoing IV anesthesia for surgery. Please alert the office if you have a medical condition that may be of concern before surgery (e.g., diabetes, high blood pressure, artificial heart valves and joints, asthma, etc.) or if you are on any medication (e.g., heart medications, aspirin, anticoagulant therapy, etc.). We ask that you bring these items with you to the consultation:
Your surgical referral slip (if applicable)
A list of medications you are presently taking
If you have medical or dental insurance, bring the necessary documentation. This will save time and allow us to help you process any claims.
X-rays—If your dentist or physician has taken X-rays, you may request that they forward them to our office. If additional films are necessary, they can be taken at our facility.
Parents of Minors
All patients under the age of 18 must be accompanied by a parent or guardian at the consultation visit.
Your oral surgeon will perform an oral examination, and a member of our staff will take 3D scans of your mouth and face. We will discuss your diagnosis and options for treatment, as well as help you select the right form of anesthesia for your procedure if necessary. Our team will always answer any questions you have throughout any part of your care.
3D Scanning
All of our offices are equipped with state-of-the-art 3D imaging technology to accurately diagnose, treat, and monitor patient health.
Financial & Insurance Information
We make every effort to provide you with superior surgical care and the most convenient financial options. To accomplish this, we work hand in hand with you to maximize your insurance reimbursement for covered procedures. Our financial coordinators deal with many different insurance companies. Some companies offer many different dental and medical plans. Some of the companies combine dental and medical coverage. Insurance companies are constantly changing policies and guidelines.
Our financial coordinators are always working to stay up to date with insurance companies. Our staff is available to assist you if you should have any problems or questions. Please remember you are fully responsible for all fees charged by this office regardless of your insurance coverage. Any remaining balance after your insurance has paid is your responsibility. Your prompt remittance is appreciated. We can make arrangements for a monthly payment plan, but that must be done before the actual procedure.
Our office accepts the following payment options:
Cash
Check
Debit Card
Insurance
Visa®
Mastercard®
Discover®
Financing
Learn More About Our Practice
Find out what makes Beacon Oral & Maxillofacial Surgeons great and learn about all of the treatments we offer.